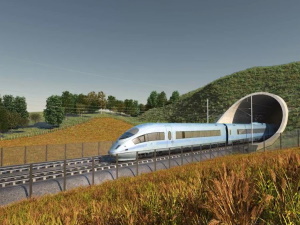 Stafford Borough businesses heard first hand from HS2 recently on the opportunities the construction of the Stafford section will present to them . View the presentation and information on how to engage.
Over 1,000 businesses local to the new railway are already delivering work on the project, 70% of which are small and medium sized businesses.
Local service providers
HS2 Ltd and contractors would like to understand what services local businesses in and around the line of route can offer and there is a short registration form where local businesses can register their interest.
Examples of local services required include:
Transport and Logistics – transport individual and workforce, vehicle management
Site Services – cleaners, waste disposal, clothing, generators
Creative Services – video, photography, graphic design, stationary, printing
Food and Catering - onsite catering vans, drinking waters, vending machines
Accommodation - B & B, site offices, modular buildings
Trade and Construction – painters and decorators, electricians, machinery hire
Employee Services – hair dressers, child care, entertainment, laundry services
Supply chain
Details of opportunities including ITTs issued, contracts awarded and contracts that have been withdrawn can be found here.
Contracts awarded include:
Tree Clearance
Driver Training
Steel Structures
Temporary Hoarding
CCTV installation
Secondary Glazing
Traffic Marshalling
Temporary Cabins
Small Plant and Tool Hire

Find out how suppliers of all types and sizes are benefitting from HS2 such as Littlewood Fencing, Crowders Nursery, Wernick Office Accommodation.
More Supply Chain Case Studies and Supply chain map shows location of opportunities.
Register your interest in supply chain opportunities on the CompeteFor website or alternatively contact one of our Business Engagement Team at economy@staffordbc.gov.uk to discuss your HS2 involvement further.
Business and Local Economy Fund
This funding programme is targeted at organisations which have formal objectives that support the development of local business/tourism. You are eligible to apply for funding if your organisation is formally established for public benefit and is not for profit. The grant will not directly fund individuals, limited liability partnerships, private sector company/business or any organisation that cannot demonstrate appropriate governance.
Applications can be for capital or revenue funding from £10,000 up to a maximum of £250,000. Funding of less than £75,000 will typically be for short-term kick-starter projects and support between £75,000 and £250,000 will typically be for long-term development projects.
Examples of BLEF projects:
Improved local cycling and pedestrian access to local economic centres
General promotional activity for local economic benefit
Employment and job creation schemes
Projects that aim to increase tourist visits to an area.
Make an application to one of the Funds.