Opening Times
Tuesday, Thursday, Friday and Saturday 9am to 4pm
Stafford Market, Earl Street, Stafford ST16 2DJ
If you are interested in opening a stall please contact 01785 245935.
At Stafford Indoor Market you will find a selection of stalls offering a wide variety of goods; from clothing to household goods, wrapping paper, cards for all occasions, gift ideas for all ages, jewellery, beauty products, wool and fabrics. As well as other services and much, much more.
For a well deserved break, visit the Chef's Café for a warming beverage and bite to eat! Stafford Market is located in the heart of Stafford Town Centre and can be accessed via Crabbery Street, Chapel Street or Broad Street. Parking is available across the road at Broad Street Car Park, car park charges start from £1.00 for the first hour to a maximum of £3.00 for four hours stay. Local buses are within walking distance.
---
Wanted
Have you ever dreamed of starting your own business?
Do you have an exciting business idea?
Here at Stafford Indoor Market we have a range of stalls available to cater to your business needs, with a range of exciting incentives available for new market traders to help start your business. For more information contact market@staffordbc.gov.uk
---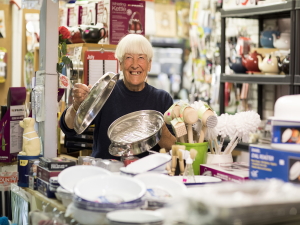 Current Stalls
Smoker's Choice - Rolling tobacco, pipes, cigars, smoker's accessories,
DIY Shed - DIY supplies and key cutting
Caribbean Takeaway - Traditional Caribbean food (Thursday, Friday and Saturday only)
B G Fun and Fashion - Fancy dress, novelty goods, purses, bags, wallets, belts
Weird and Wonderful - Incense, Novelty t-shirts, giftware, smoker's accessories
Jacqui's Handmade - Hand made cards and gifts, nappy cakes, craft supplies
Judy's Cards - Cards, gift wrap, gift bags, gifts
Cats Protection - Cat food and preloved items
J and B Household - Kitchenware, household goods, garden tools, trolley bags
Davies and Lake - Slippers and footwear
Pat's Cosmetics - Makeup, cosmetics, hosiery, socks, nightwear, underwear, hats
Mallard Catering - Outside catering company
Fabric Box - Haberdashery and fabrics
A Stich in Time - Sewing and repair service, bags and scarves
Deb's Wool Stall - Wool, yarn, knitting accessories, patterns, project advice
Bibberty Bobberty Gifts - Handmade gifts, t-shirt printing, giftware
Guitar and Watch Surgery - Guitar sales and service, accessories, CDs, watch batteries
Chef's Café - Traditional café
---
Did you know?
The original Market was held on Saturdays only at the Market Square. In 1853 the Butter Market was built at the rear of the Guildhall for the country people to stand with farm produce for sale. In 1912 the Market was opened on Tuesdays, principally for the sale of farm produce which developed into a small general market.
In 1927 the Council extended the General Market from 9000 to 14700 square feet. In 1935 the old Guildhall and Market entrance was demolished and a new Guildhall and Arcade entrance was erected.