Stone Creativity and Crafts
Stone offers a friendly welcome – and a taste of culture and creativity. From hand-crafted goods and artisan values to fine food and drink served with a smile, Stone is a place where you can 'meet the makers' on a fascinating day out. A full listing of all Stone and the surrounding areas shops and leisure providers can be found online - Our Beautiful Borough.
On the first Saturday of every month, the popular Farmers' Market visits the town, attracting many visitors looking for speciality produce. There is a Craft and Collectables Market on every Third Saturday and other themed markets appear during the year. The town Markets are also a regular feature in the High Street - visiting Tuesdays, Fridays and Saturdays.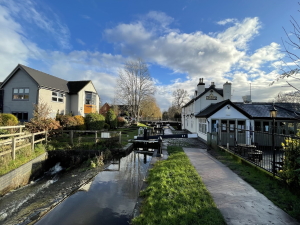 As the creative hub of our beautiful borough, visitors can expect a warm and welcoming experience in Stone – from a colourful community that is bursting with ideas.
Adding to the vibrancy of Stone - various events take place throughout the year, including the Stone Festival held annually in June and the highly successful Food and Drink Festival which takes place in October.
The Stone Food and Drink Festival brings together the very best in local produce and cooking talent to delight visitors from far and wide. Now a real red letter day in the 'foodie' calendar the festival attracts in excess of 20,000 visitors to the charming North Staffordshire market town with a packed week-long schedule of food and drink events hosted by local pubs and businesses in addition to the 'main event' on the town's Westbridge Park on Friday, Saturday and Sunday. For more information please visit the Stone Food and Drink Festival website.
For information on parking please visit the Parking in Stafford and Stone website.
---
Video of Stafford and Surrounding Villages