Stafford College - Skills and Innovation Hub Proposal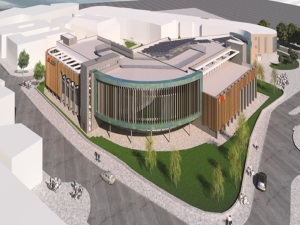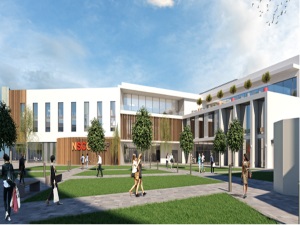 Newcastle and Stafford Colleges Group (NSCG) has unveiled plans for a brand new £23M Skills and Innovation Hub. The news follows the successful application by the Group to Stafford Borough Council for permission to demolish mothballed buildings on the Earl Street and Broad Street corner of the existing campus, to make way for the new scheme which has a targeted completion date of 2022.
The ambitious plans include a 7,500 sq foot, 3 storey Skills and Innovation Hub equipped with leading edge equipment and state-of-the-art skills, construction, engineering and motor vehicle facilities, along with a 4 court sports hall, gym and 300-seat auditorium.
This latest announcement relating to the Stafford College campus comes almost two years after the College opened a brand new Science and Technology Centre which is home to state-of-the-art science laboratories, IT suites and a LEGO® Education Innovation Studio. Since the merger between Newcastle College and Stafford College in November 2016, a total of £13.5M has been invested to improve facilities and student experience at the town centre campus. Other recent enhancements include; a fully revamped Learning Resources Centre, new dining areas and a new Mac Suite, alongside substantial investment into innovative hybrid motor vehicle equipment and significant improvements to the IT infrastructure.
In addition to College funds, NSCG is working with the Stoke-on-Trent and Staffordshire Local Enterprise Partnership and other partners to secure a funding package which will enable a prompt start to the development.
If approved, the Skills and Innovation Hub will attract a diverse student body across a wide range of predominantly skills based subjects, which will help to address future skills gaps in the region whilst also supporting Government priorities around sport and increasing the number of young people studying on apprenticeship programmes. Already a significant provider of apprenticeships, NSCG currently has over 2,200 apprentice learners, working with over 800 regional employers, a substantial percentage of whom are in the skills and construction trades. The building will accommodate up to 1000 learners and up to 200 staff.