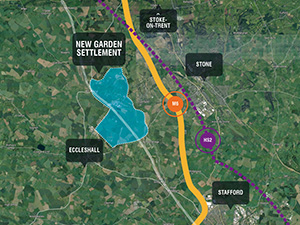 Proposals for a garden settlement with the prospect of new homes, schools, transport links and employment areas in the north of Stafford Borough have been given a major Government boost.
The new settlement could include;
Around 1000 hectares of land
Around 10,000 homes
200 hectares of new employment land
300 hectares of green space including parks
16,000 jobs
New West Coast Mainline station
New junction for the M6
New schools and health centres
In March 2019 the borough was chosen as a possible location for a new garden settlement with the Government contributing £750,000 to develop detailed plans for the key infrastructure required – such as highway improvements, schools, water and energy provision – to support a sustainable development.
The concept for a new garden community, with a working name of 'Meecebrook' at Cold Meece near Stone, will now be considered as part of the Borough Council's local plan process 2020-2040. As well as around 10,000 homes the plans would include health provision, open spaces and community facilities along with schools and excellent digital connectivity.
The proposals to create the garden settlement could relieve the pressure of building more homes in other towns and villages across the borough – helping to retain the area's 'shire identity.'
Council Leader, Patrick Farrington, said: "I am now looking forward to working with the Government, our landowner partners, key delivery agencies, Staffordshire County Council, and other local authorities, and the Local Enterprise Partnership, to progress future development opportunities. This is yet another example of the confidence investors and national decision makers have in us to deliver major growth for our borough.
"We have ambitious projects and have set out our vision to ensure Stafford Borough is leading the way in attracting investment and boosting the area's prosperity. This is very exciting news and takes us a step further in creating a new garden community in the north of the borough".
The local authority is working hard to ensure that the borough takes advantage of this major development and economic delivery through the highest quality of design scheme fit for future generations.
Councillor Farrington continued: "The council is embarking on a new local plan which will guide development in the future. We need more homes and the potential numbers which this new settlement could accommodate obviously reduce the need to look for other sites or build in our existing towns and village.
"The idea of a new garden settlement is only at the concept stage but this funding is a major boost from the Government to progress future economic growth and development. As the proposal progress they would be part of the local plan process and subject to detailed consultation with local residents."