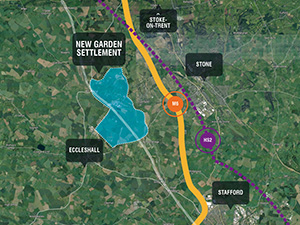 A new garden settlement on MOD land could create the prospect of:
Around 1000 hectares of land
Significant housing
200 hectares of new employment land
300 hectares of green space including parks
16,000 jobs
New West Coast Mainline station
New junction for the M6
New schools and health centres
if the Government decide to build a railhead for the HS2 project in Stone.
The area which has been mooted is brownfield land around Cold Meece near Stone.
The idea could be considered as part of Stafford Borough Council's local plan process.
The local authority is looking for benefits that can be achieved if the railhead comes to Stone. The proposals could relieve the pressure of building more homes in other towns and villages across the borough – helping retain the area's 'shire identity.'
The council works with other local authorities and Local Enterprise Partnerships, who form the 'Constellation Partnership,' and are looking to engage Government to progress opportunities that HS2 will bring.
The council is embarking on a review of its local plan which will guide development in the future. Part of the exercise is asking landowners to suggest land they would like to have considered for development in the review.