Length of walk: Approx 4.5 miles
Duration of walk: Approx 1.5 to 2 hours
Good place to start: Burton Manor Primary school
Notes: Can be muddy
Turn left at the school gates and walk to Burton Manor Road, then turn left towards Hyde Lea. Pass under the motorway bridge and take the first road on the left, Barnbank Lane.
Go up the hill a short distance, ignoring the stone track on the corner. Here you will find a footpath leaving the lane on the right, next to a house called 'The Gables'. From this stile the path goes up the hill towards the left hand side of some farm buildings, where you will find another stile. The path now goes right alongside the farm to a stone road. Here our walk follows the stone road in front of the houses, keeping the field on the left. When the road stops, continue round the field edge until you reach a stile which will take you into Green Lane.
Turn left down the lane to reach a gate and stile by a cottage. Continue on down the fields (towards the large Argos warehouse). Pass through four fields to Grange Farm then carry on straight, through the farmyard and down the drive to Ashflats Lane, where you turn left.
Continue along the lane over the motorway, past Ash Rise, to a crossroads junction where you turn left up Barnbank Lane. On your way up Barnbank Lane you will cross over the motorway again and pass the entrance to Moss Pit Farm on the left and Barnbank House to the right.
Just after passing Barnbank House, on the same side, there are some steps with a handrail which lead into a field. Once again the views here are superb! Walk down the field towards Stafford where there is a stile leading into Burton Bank Lane. Turn right here, cross over the motorway and take the steps on the left which lead to John Amery Drive.
Turn left and follow John Amery Drive until you reach Uplands Road. Turning left again you will soon be back where you started this walk.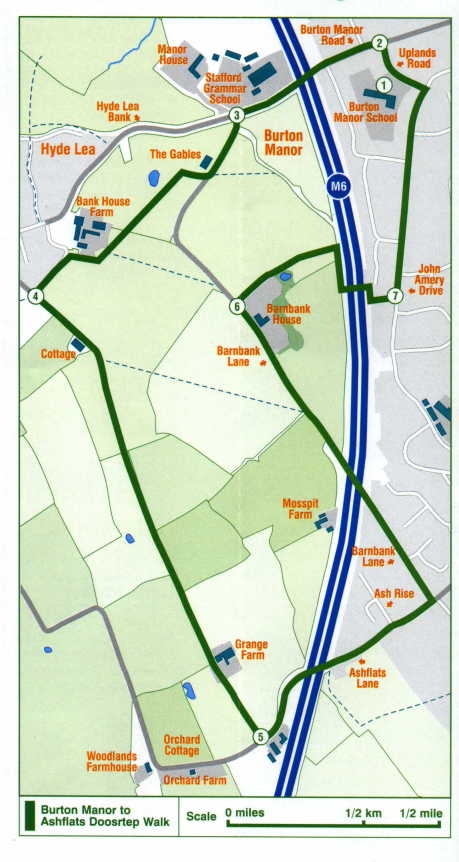 Click on the map for a printable copy.