The programme of Doorstep walks is currently under review and will be refreshed over the summer period. Please take care whilst out walking the routes as the weather and changing seasons can affect the terrain.
Length of walk: Approx 5 miles
Duration of walk: Approx 2-3 hours
Good place to start: Cooperative store, Cannock Road
Notes: Can be muddy, narrow canal paths
1. From the Cooperative store car park turn right along the Wildwood ring road and walk past the Doctor's Surgery.
2. Carry on for a while, past several turnings on the right, including Lansdowne Way, Otterburn Close, The Bramblings and Hollyhurst.
3. When the road bears right, take the path straight ahead, behind the houses in Fieldside. At the 'T' junction turn right down Hazelstrine Lane.
4. You will come to a fork, where you should take the right hand path and continue along a track, passing Stafford Boat Club. This will lead you down to the Staffordshire and Worcestershire Canal.
5. Go over the canal bridge and bear right to join the canal towpath. Turn left along the towpath (DO NOT go under the bridge you have just crossed!)
6. When you reach the Car Showrooms just before Radford Bridge (No 98), take the footpath to the left of the showrooms to reach the A34. Cross the road with care and re-join the towpath.
7. After Bridge No. 103, called Stoneford Bridge, leave the towpath and go up and over the bridge. Then follow the path under the railway bridge and carry on up the track.
8. At the gate, follow the path round to Falmouth Avenue and continue along into Stockton Lane. Turn left along the path between house nos 34 and 32, you will soon come to a stile. Climb the stile and cross the field to Milford Road.
9. Cross this road carefully, climb the steps opposite and continue along the track to the crossroads. Cross straight over and walk down Old Croft Road.
10. Continue along this road until you get to the playing fields, turn right along the footpath between the playing fields.
11. You are now returning along the Walton-on-the-hill to Brocton Doorstep Walk route. At the next road, turn right and then go left along Silvester Way.
12. When you get to Mendip Avenue turn right and then left down a track, which is called Bridle Road. Follow Bridle Road down to the A34 Cannock Road, cross this road carefully to return to Cooperative store.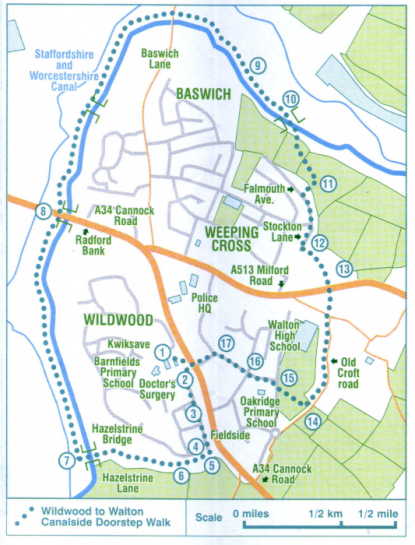 Click on the map for a printable copy. To print the walk details above, right click and print or go to file and print. Alternatively if you would like a hard copy of the Doorstep Walks pack please email your request with your name and address to walking@staffordbc.gov.uk