The Worshipful the Mayor of Stafford Borough
Councillor Ray Barron 2018 - 2019
Ray has lived and worked in Stafford and has been married to his wife Jenny for over 40 years. They have one daughter Lisa, son in law Dave and a 9 year old Granddaughter Ella.
Ray was born in Wolverhampton but shortly after his family moved to Penkridge. On leaving school Ray served his apprenticeship to be a Motor Mechanic at Attwoods Garage Wolverhampton. He later worked at Charles Clark Garage in Stafford before starting his own garage business at Radford Garage which he ran for 25 years with the help of his wife Jenny before moving to Marston Road Garage. That was where his interest in politics began when one of his customers who was a Stafford Borough Councillor asked Ray if he would like to stand in the local election for Common Ward.
In 2008 Ray was elected to be a Borough Councillor in a by-election for the Common Ward and in the following year was elected to be the County Councillor for Stafford North. For the Borough Council Ray has served on many Committees including Resources, Audit and Accounts, Parking, Leisure and Community Scrutiny. For the County Ray has served on the Education Committee, Adult Social Care Committee and was Vice Chair of the Staffordshire Pension Committee. Ray has also served as a member of the Staffordshire Fire Authority, serving on many committees including being Vice Chair of the Audits and Accounts Committee. He has also been a School Governor for two schools - Sir Graham Balfour and Greenhall School. In 2010 Ray was elected to be the Deputy Mayor of Stafford Borough. In 2015 Ray and his wife Jenny were both elected to serve the Weeping Cross and Wildwood Ward on Stafford Borough Council.
Ray is a keen Classic Car enthusiast and has judged the winners of the different classes at the Stafford Castle Classic Car show for the last few years.
Ray was elected by fellow Councillors to be Mayor of Stafford Borough for the 2018/19 Municipal year. He has said this is a great honour and looks forward with his wife Jenny to what should be a fulfilling year serving the people of Stafford Borough and raising funds for the Mayor's Charities Macmillan Cancer Support and other local charities.
Councillor Jenny Barron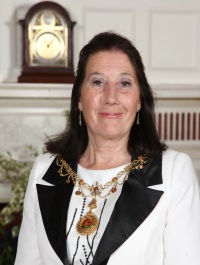 Jenny was born in West Bromwich and moved to Penkridge where she met and married Ray and moved to Stafford.
She attended Stafford College and undertook a full time secretarial course. Following this she was a Medical Secretary to the Senior Consultant Physician at Stafford General Hospital leaving in 1978 to have their daughter Lisa.
Jenny has recently worked as a Locum Medical Secretary at various hospitals, including County Hospital, Cannock Hospital, New Cross Hospital, Rowley Hall Hospital covering a variety of specialities. She has also worked for two local GP surgeries.
Jenny undertook a full time Floristry, City Guilds course at Rodbaston Agricultural College in 2001 and ran her own floristry business for a while.
Jenny was a Committee Member and fundraiser for the Stafford with Rugeley Life Boat Institution for many years carrying out the duties of Press Officer and Honorary Secretary.
For the last nine years Jenny has been the Press Officer and Committee Member fundraiser for Stafford Friends Branch of Donna Louise Children's Hospice.
Jenny was elected to the Borough Council in 2015 serving Weeping Cross and Wildwood Ward. She feels honoured to be Mayoress for the next Municipal year.